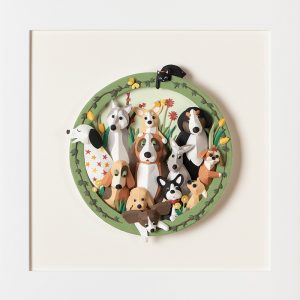 Wan! Wan! Wan! (2013)
富士川切り絵の森美術館 収蔵
30.0 x 30.0 (cm)
情報誌の表紙のために制作した作品です。
犬派か猫派かと問われたら、犬派です。
でもねこのふわっとした毛や柔らかい身のこなしはとても好き。
Collection of Fujikawa Kirie  Art Museum, Japan.
It is a work created for the cover of an information magazine.
Rather, I like dogs better than cats.
But I really like the fluffy hair and soft body of cats.