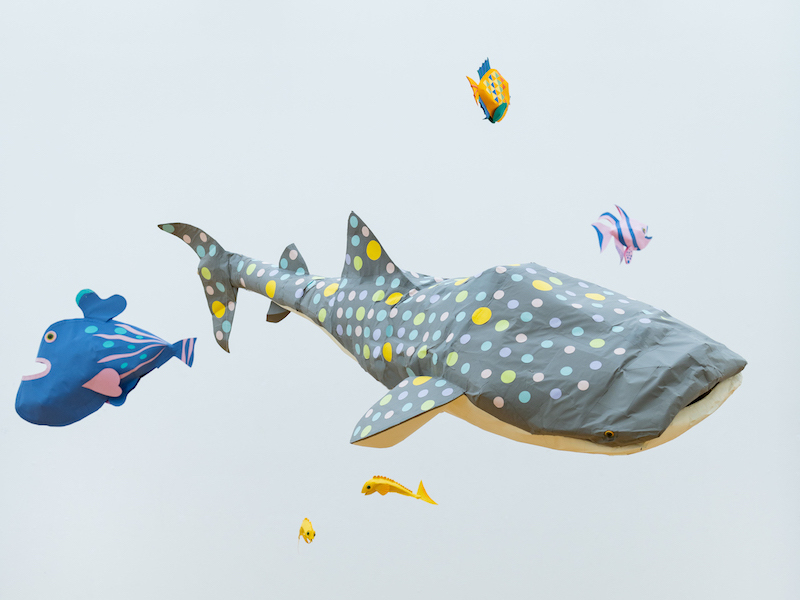 JINBEI (2007)
100.0 x 100.0 x 250.0 (cm)
2.5mを超えるとても大型の吊り作品。
最初は大阪の水族館、海遊館と天保山マーケットプレイスでの展示のために制作しました。
その後、クルーズ客船「ぱしふぃっくびいなす」号の装飾に採用され、世界クルーズに2回出かけています!
世界2周の後も展示のご依頼が多く、なぜかどこへ行っても子どもたちに大人気。
金沢21世紀美術館、砺波市美術館(富山)へも。
修理を重ねてここまできました。大切な作品です。
世界2周が本気でうらやましいです。

Very large hanging works over 2.5m.
At first I made it for display at the aquarium in Osaka, Kaiyukan and the Tempozan Market Place.
After that, it was adopted for the decoration of the cruise passenger ship "Pacific Venus" and went out twice for the world cruise!
After 2 laps around the world, there are many requests for exhibitions and it is very popular among children.
Also to the 21st Century Museum of Contemporary Art, Tonami Art Museum .
It is one of my important work.