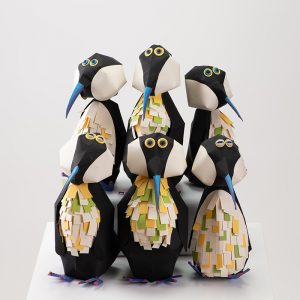 Penguins? (2018)
12.0 x 12.0 x 30.0 (cm) 3体
阪急百貨店うめだ本店のウィンドー展示のために制作した作品です。
水族館にいるペンギンたちってみんなそれぞれ別の方向を向いて、こんな風に立っていますよね。
ふいに1匹飛び込むと、みんな思いついたように続いてプールに飛び込む。
ぽちゃんぽちゃん。
A work created for the window display of the Hankyu Department Store Umeda.
The penguins in the aquarium all turn in different directions and stand like this.
Suddenly one jumps into the pool, and then everyone jumps into the pool.