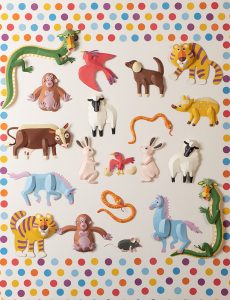 Gokan de Eto(2017年)
72.8 x 103.0 (cm)
紙業会社のギャラリー開設20周年の記念展示のために制作しました。
五感紙という神の温もりが動物たちの肌にぴったり。
20周年なので干支が20匹います。酉年だったので、ひよこが生まれました。
I made it for the commemorative display of the gallery 20th anniversary in a paper company.
"Five-sense paper" is perfect for the skin of animals.
There are 20 zodiac signs because it is the 20th anniversary.
A chick was born because it was a leap year.