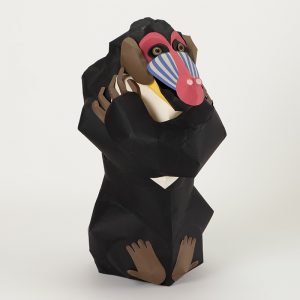 Don't Leave Me Alone!(2008年)
33.0 x 23.0 x 10.0 (cm)
 マンドリルのオスを動物園で見ると、いつも高いところで静かに座って、
メスがウロウロ動き回るのをじっと眺めています。
その様子と派手な顔とのギャップが好きで、繰り返しモチーフに選んでいる動物です。
箱に入れて手荷物でニューヨークに持って行きました。
客室乗務員さんに抱えられて、この子だけJALのファーストクラスへ。
理由は「ファーストクラスの手荷物スペースの方が広いから」。
When I see a mandrill male at the zoo, He always sit quietly at high places, watch the female moving around.
I like the gap between the appearance and the flashy face. And it is an animal that has been repeatedly selected as the motif.
I put it in a box and brought it to New York as baggage.
This mandrill only got on JAL's first class. The reason is "first-class baggage space is larger".