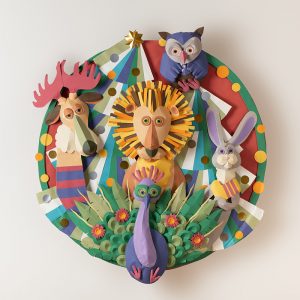 Christmas Land (2013)
120.0 x 120.0 (cm) 
クルーズ客船ぱしふぃっくびいなす号の船内装飾のために制作した作品。
直径120mの大型の壁面装飾です。
神戸港で船内設置作業をしましたが、クリスマスクルーズにも一緒に行きたかったなあ。

A piece of work created for the interior decoration of the cruise liner Pacific Venus.
It is a large wall decoration of diameter 120cm.
I did the installation work of this work in Kobe Port.
I wanted to go on a Christmas cruise with this piece, but I couldn't.